Arkivet
Special 55: 2011 - The Tilbageblik
12. Januar, 2012
Spilletid: 89 minutter (53,1 MB)
Som det sig hør og bør starter vi det nye år med at kigge tilbage på det gamle, og for at gøre en lang historie kort så præsenterer vi her vores lister over de 10 bedste og de 10 dårligste filmoplevelser i 2011! Og for det ikke skal være løgn har vi endnu engang fået vristet nogle lignende lister ud af vores kære lyttere.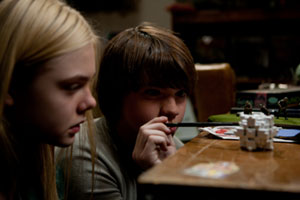 Husk også at vores Oscar quiz er åben! Deltag i quizzen her!
Programoversigt
0:00:00 - Intro
0:03:43 - David og Dennis' Bottom 10
0:26:45 - David og Dennis' Top 10 - 10 til 6
0:36:14 - Lytternes lister
1:07:35 - David og Dennis' Top 10 - 5 til 1
1:25:19 - Afslutning
Dobbelt Ds 2010 Top og Bottom Lister
Davids Top 10
Super 8
Kung Fu Panda 2
Margin Call
Source Code
TRON: Legacy
I Saw the Devil
The Last Exorcism
Trolljegeren
Apollo 18
Page Eight
Dennis' Top 10
Super 8
Howl
Adam Resurrected
TRON: Legacy
Kung Fu Panda 2 / The Social Network
I Saw the Devil
Heartless
The Rite
Winnie The Pooh
Stake Land
Davids Bottom 10
Your Highness
Red State
Smukke Mennesker
Tree of Life
Adele and the Secret of the Mummy
Paul
Into Eternity
I Love You Phillip Morris
True Grit
Thor
Dennis' Bottom 10
Smukke Mennesker
Red State
Sucker Punch
Human Centipede II
Julia's Eyes
Pirates of the Caribbean: On Stranger Tides
I spit on your grave
Burlesque
Fritt Vilt III
The Tunnel
Lytternes lister
Flere af vores awesome lyttere sendte deres egne toplister ind til os! Du kan se deres lister her: Lytternes 2011 lister.
Klik her for at downloade special 55