Arkivet
Special 37: MMX i backspejlet
9. Januar, 2011
Spilletid: 116 minutter (66,3 MB)
Så er vi kommet sikkert ind i 2011 og som altid er det nu blevet tid til at se tilbage på sidste års bedste og dårligste filmoplevelser. Vi har kigget dybt ind i vores egen sjæl og hver især fundet frem til en Top 10 og en Bottom 10 liste. Også er der ovenikøbet nogle modige lyttere, der har sendt os deres egne lister!
I dag kommer vi live fra vores nye studie!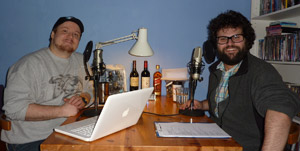 Husk også at vores Oscar quiz er åben! Deltag i quizzen her!
Programoversigt
0:00:00 - Intro
0:11:52 - David og Dennis' Bottom 10
0:53:17 - David og Dennis' Top 10 - 10 til 6
1:10:44 - Lytternes lister
1:30:56 - David og Dennis' Top 10 - 5 til 1
1:44:05 - The rest
1:51:53 - Afslutning
Dobbelt Ds 2010 Top og Bottom Lister
Davids Top 10
Inception (special 29)
The Expendables (episode 94)
Unthinkable (episode 85)
Despicable Me
Cargo (episode 87)
How to Train Your Dragon (Oscar anmeldelse)
Winter's Bone (Oscar anmeldelse)
Knight and Day (episode 94)
Don't Look Back
The Social Network (Oscar anmeldelse)
Dennis' Top 10
Tetro
Inception (special 29)
Pontypool (episode 77)
A Serious Man (episode 79)
The Expendables (episode 94)
My Son, My Son What Have Ye Done
Bad Lieutenant: Port of Call New Orleans (episode 82)
Despicable Me
Where the Wild Things Are (episode 82)
Pandorum (episode 78)
Davids Bottom 10
Couples Retreat (episode 78)
The Blackout
Cop Out (blog anmeldelse)
I'm Still Here (episode 94)
Skyline
Piranha (3D)
The Final (special 27)
Alice in Wonderland (episode 85)
Resident Evil: Afterlife (blog anmeldelse)
The Last Airbender (episode 94)
Dennis' Bottom 10
Parasomnia (episode 86)
The Hills Run Red (episode 80)
Open Graves
Survival of The Dead (episode 88)
The Final (special 27)
The Box (episode 79)
Halloween II (episode 76)
Mutants (episode 85)
Don't Look Up (episode 89)
Valentine's Day (episode 85)
Lytternes lister
Flere af vores awesome lyttere sendte deres egne toplister ind til os! Du kan se deres lister her: Lytternes 2010 lister.
Klik her for at downloade special 37
Tilbage til episode oversigten
Notes
Nu ved vi hvem Amalie er! Link